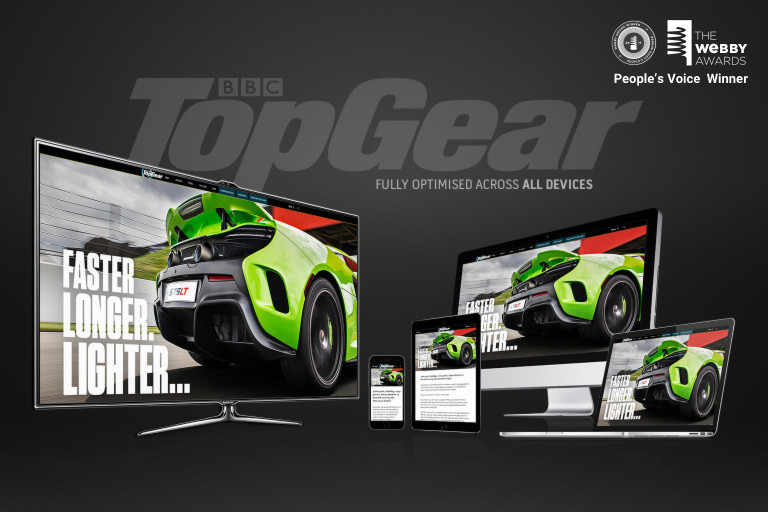 Redesigning the world's biggest motoring platform.
Awards

Top Gear is the world's most widely watched factual TV programme and working closely with the BBCW team the full redesign and development of TopGear.com aimed to boost advertising revenue and broaden the site's (already vast) global audience.
The fully responsive experience brings a host of new features across devices to a loyal global audience. These include; the world's greatest daily car news service, written live from Top Gear HQ's global team, a fully searchable database of every new car on-sale today, industry-leading long-form features and a new video hub with exclusive behind-the-scenes action and best viral videos, giving a media rich experience on the site.
Magazine inspired, the design is rich in both imagery and typography, showcased in stunning HD front-end layouts. UX has been totally overhauled across all platforms for a fully responsive and seamless experience when shifting between devices. The site also uses a host of interactive effects to enrich content pages and achieve a layered experience. Further to this, the 'Big Read' functionality provides richer content formats than ever before on the site. Social touch points have also been seamlessly integrated around the site to build and foster TopGear huge Facebook, Youtube and Twitter communities.

The key aim behind the redesign was to boost advertising revenue for BBC Worldwide and broaden its target audience significantly. To help achieve this goal, we introduced innovative advertising formats which provides advertisers with new native opportunities fully integrated into the site. Beyond this, the redesign has a greater focus on the car-buying process and includes a comprehensive car review database featuring every single new car introduced to the market, and alongside this partnered content has been added which maximises additional revenue by giving users integrated access to Auto Trader and other top brands. These new features are designed to increase the platform's global reach and encourage a higher level of engagement across the new site.


Since launch the site has successfully delivered on the redesign targets and seen the user session duration increased (YOY Apr 2015-Apr 2016) by 50%, page views and session have also increased and we are also expecting further increased traction as the new TV show goes live. Mobile has seen big improvements too, with return visits increasing to 60% of all sessions, and pages per session increasing from 2.98 to 4.23. In addition we now serve more than 50% of visits to a mobile device (53%, up from 42% YOY); that increases to 63% when tablets are included.

Overall advertising revenue has also increased, with the viewability figures for ads on the site - the key metric - now out-performing the market thanks to the new design and focus on mobile. Auto Trader, WeBuyAnyCar and Motoring.co.uk have also built new partnership modules into the revitalised car reviews database to reach TopGear.com's discerning car-buying audience.
Awards Update
2017 - People's Voice Webby Award
2015 - Bronze Lovie Award
2015 - Silver W3 Award
What the client says...
"Brand42 has brought the right mix of technological know-how and brand expertise, coupled with a unique, creative approach that I believe will deliver the website that the Top Gear audience has been waiting for"
Charlie Turner,
Editor-in-Chief, BBC Top Gear Magazine