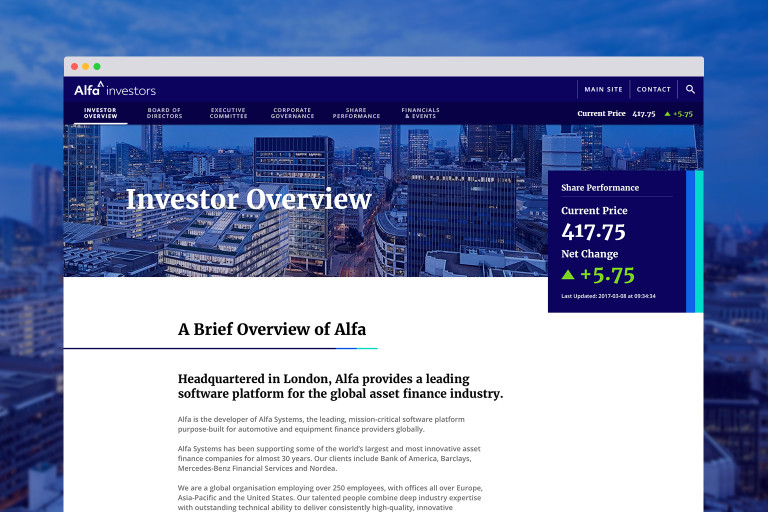 Bridging the gap between Alfa and it's Investors.
Shortly after the successful launch of the corporate site, Alfa informed Brand42 of their intention to float on the London Stock Exchange. As part of the process Alfa would need a microsite that could speak to and identify with a unique type of audience, institutional investors. The site would need to provide accurate, reliable, and timely data with a clear user experience and a sophisticated design, without moving away from the modern and accomplished branding and communication standards which were set as part of the rebrand.

Building upon our original philosophy of giving visual ownership to each of Alfa's three key areas, we positioned the Investor Relations website within the company section of the brand. With this in mind, we built upon Alfa's existing brand and web guidelines to create an Investor Relations website that feels independent, yet strongly immersed within the brand.

Operating within a single key area, we opted for a tabbed navigation system to clearly showcase the six key pages of the site and allow immediate access to each area, meeting the needs of time-poor institutional investors.

We worked closely with Alfa's financial and legal team to ensure we delivered an Investor Relations site that both met and exceeded expectations in terms of functionality but also insured that the key company characteristics around innovation and exceptional talent complemented the mandatory information that the London Stock Exchange requires.

Utilising the wealth of data that embodies Alfa, London, and the Stock Exchange, we developed a look and feel that's distinctive amongst its peers (in terms of Investor Relations websites) with a clear usability and navigation. The end result was a market-leading Investor Relations site which supported the hugely successful float, which is the largest IPO of 2017 so far, and continues to to be the bridge between Alfa and it's Investors.

What the client says...
"Brand42 really know web design backwards, forwards, inside out and upside down. They quickly understood what we needed and created a compelling Investor Relations website for Alfa. They fully digested our brief and researched the market, which enabled them to come up with a solution that's easy to navigate and is extremely visually appealing. We can highlight key financial and regulatory messages on the microsite without confusing our audience with too much information. Brand42 are a natural extension of our team and they are always willing to do that extra bit which makes everything sizzle. Highly rated!"
Tina Sen - Head of Global Marketing, Alfa